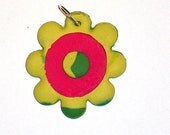 Flower two-tone green pendant has bright dark pink circle with green circle middle - reversible two tone green on back handmade, unique pendant None other like it!
Keep in mind that this beautiful pendant offers two sides of beauty!
pendant measures - approxiamtely 2 inches wide
2 inches top to bottom
...
Click Here to Visit My Etsy Shop!