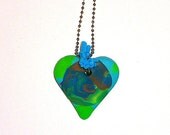 Blue and green polymer heart necklace has many different colors swirled throughout it creating this unique handmade beautiful excessori that goes with any outfit and looks fabulous!!
This necklace makes a statement - It says that you can think for yourself!!
It is lightwieght and ball chain is approximately 18 inches in length. The heart pendant itself is approximately 1 1/2 inches.
**...
Click Here to Visit My Etsy Shop!